GDS communications operate across a lot of touchpoints, needing to be consistent. This is a recruitment display for jobfairs, which I created in HTML and CSS to make it portable and easy to update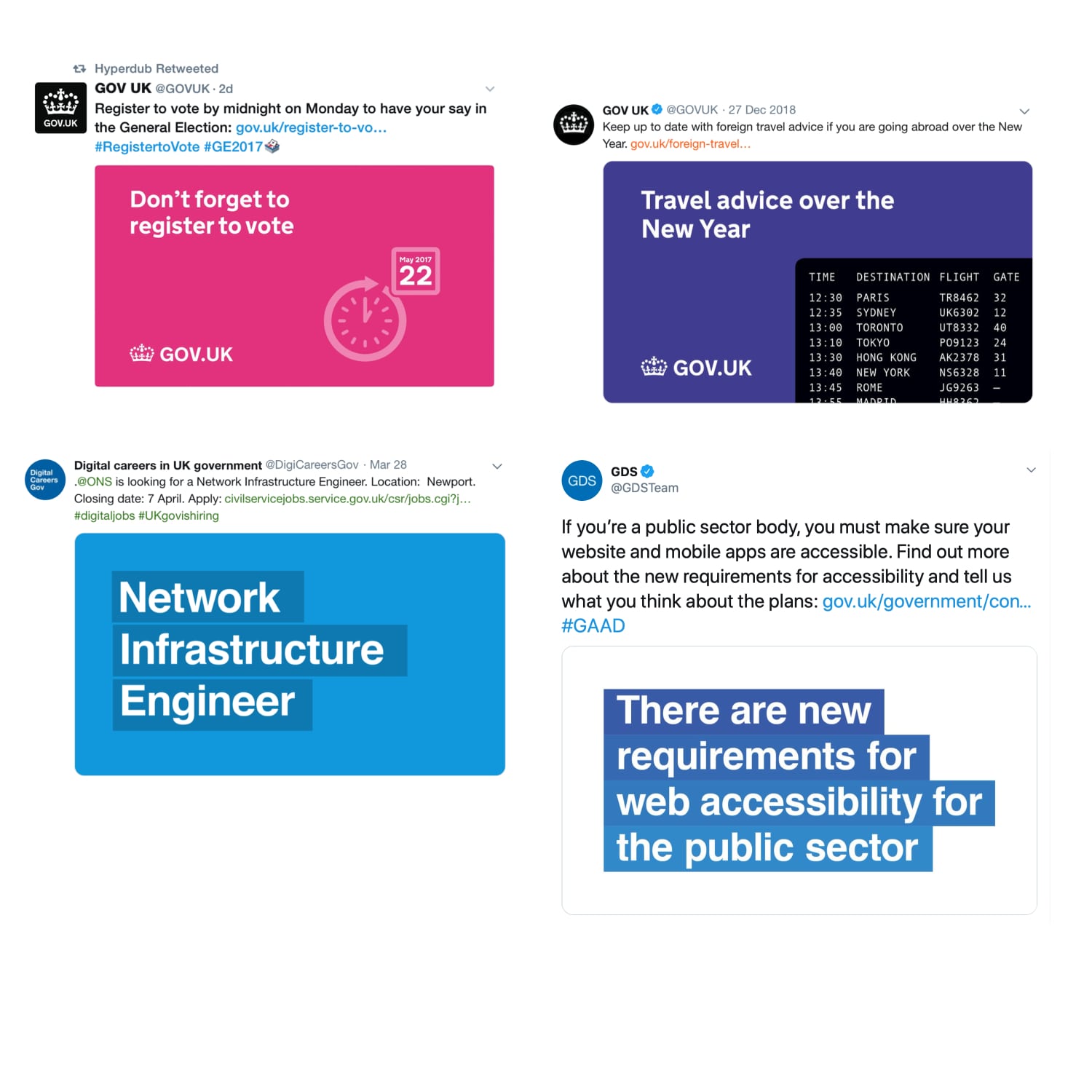 The various GDS and cross-government social media accounts have millions of followers, and are used to communicate a wide range of public service information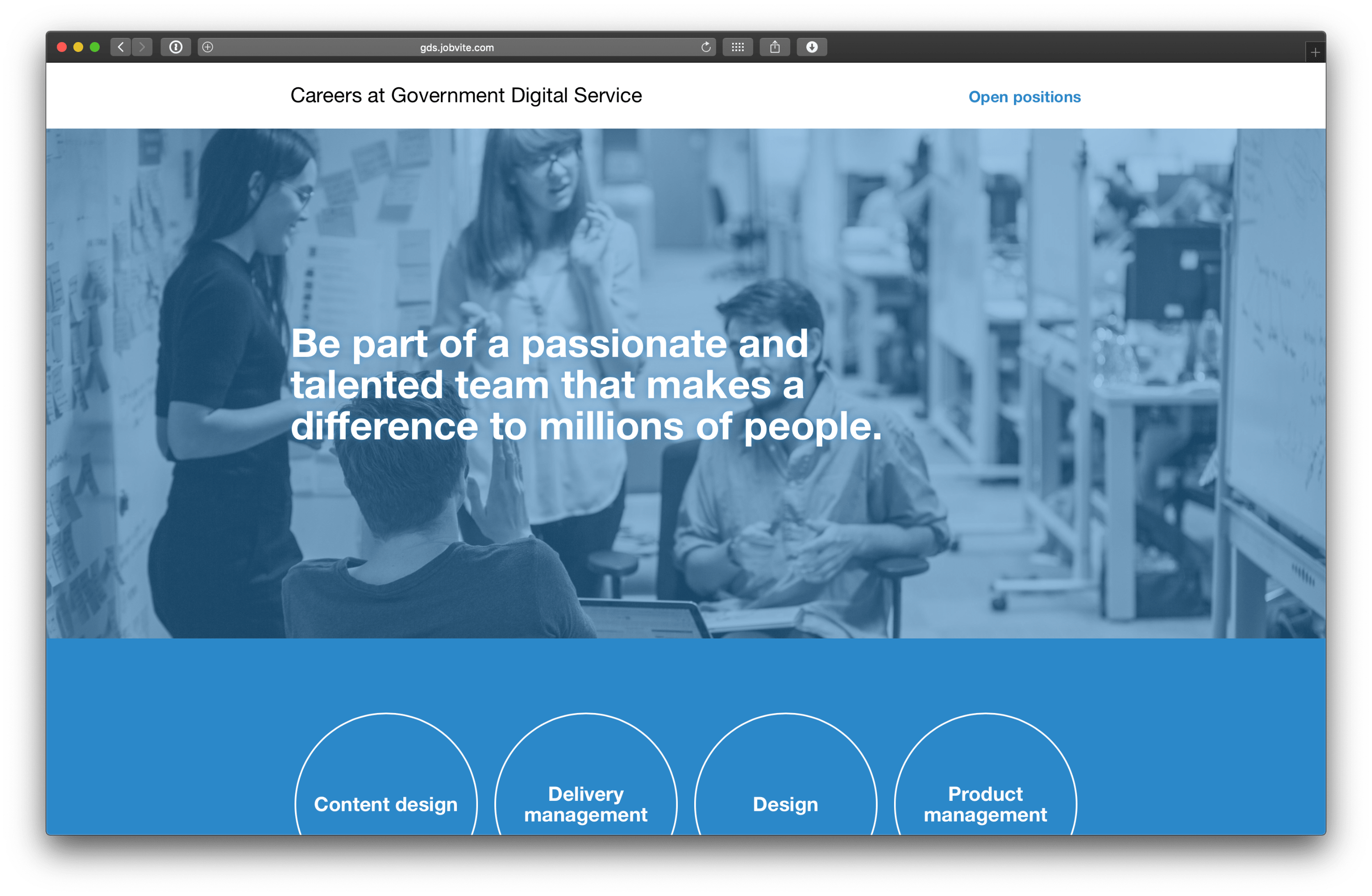 The political situation in the UK meant that GDS needed to work harder to attract digital professionals. I did the information architecture, page layouts, copywriting, photography for the GDS recruitment website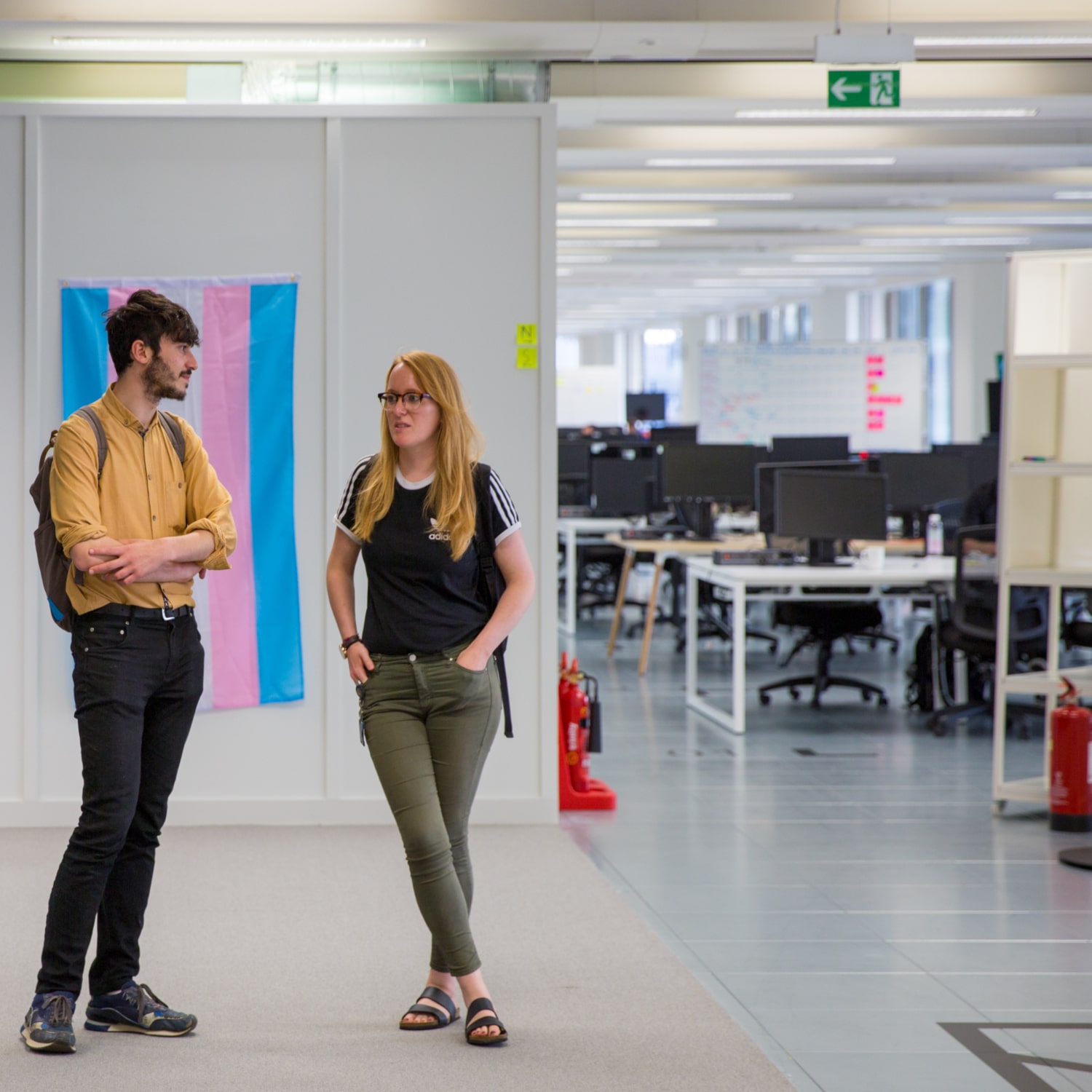 I worked with Gensler to design the new GDS office interiors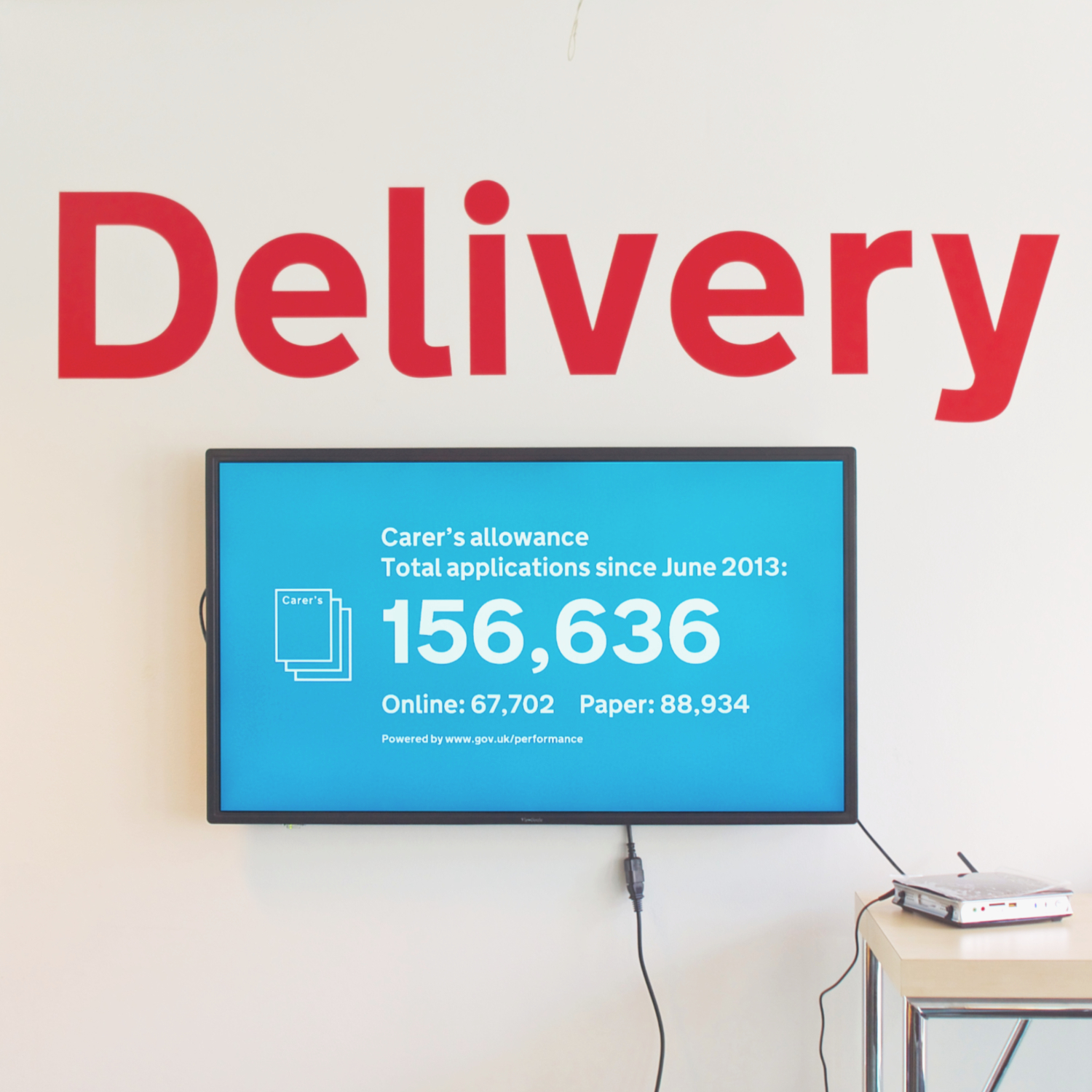 Wall graphics in the old GDS offices (dashboard by Henry Hadlow)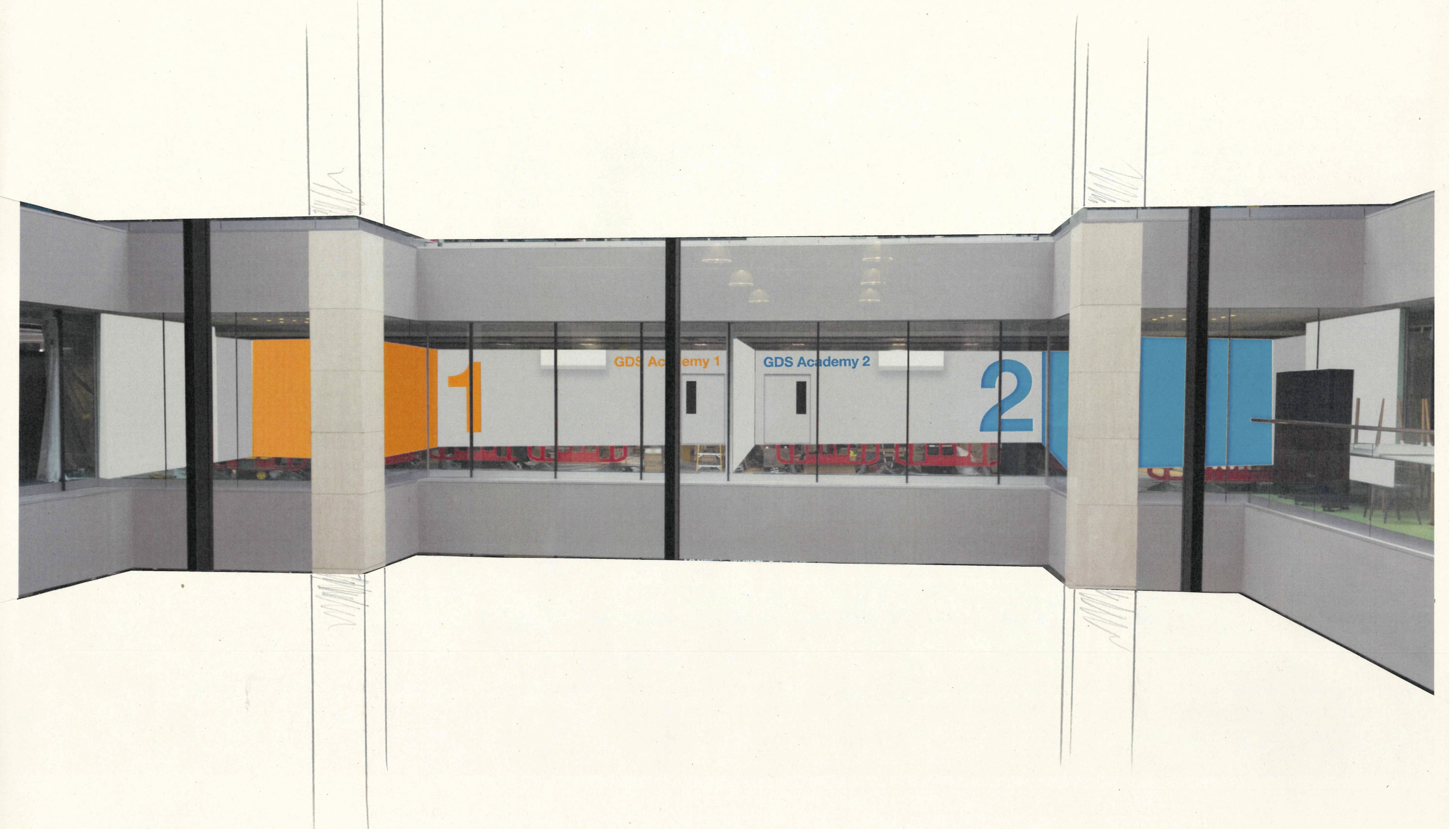 As GDS evolves its office frequently iterates to meet new requirements. These are sketches for new teaching rooms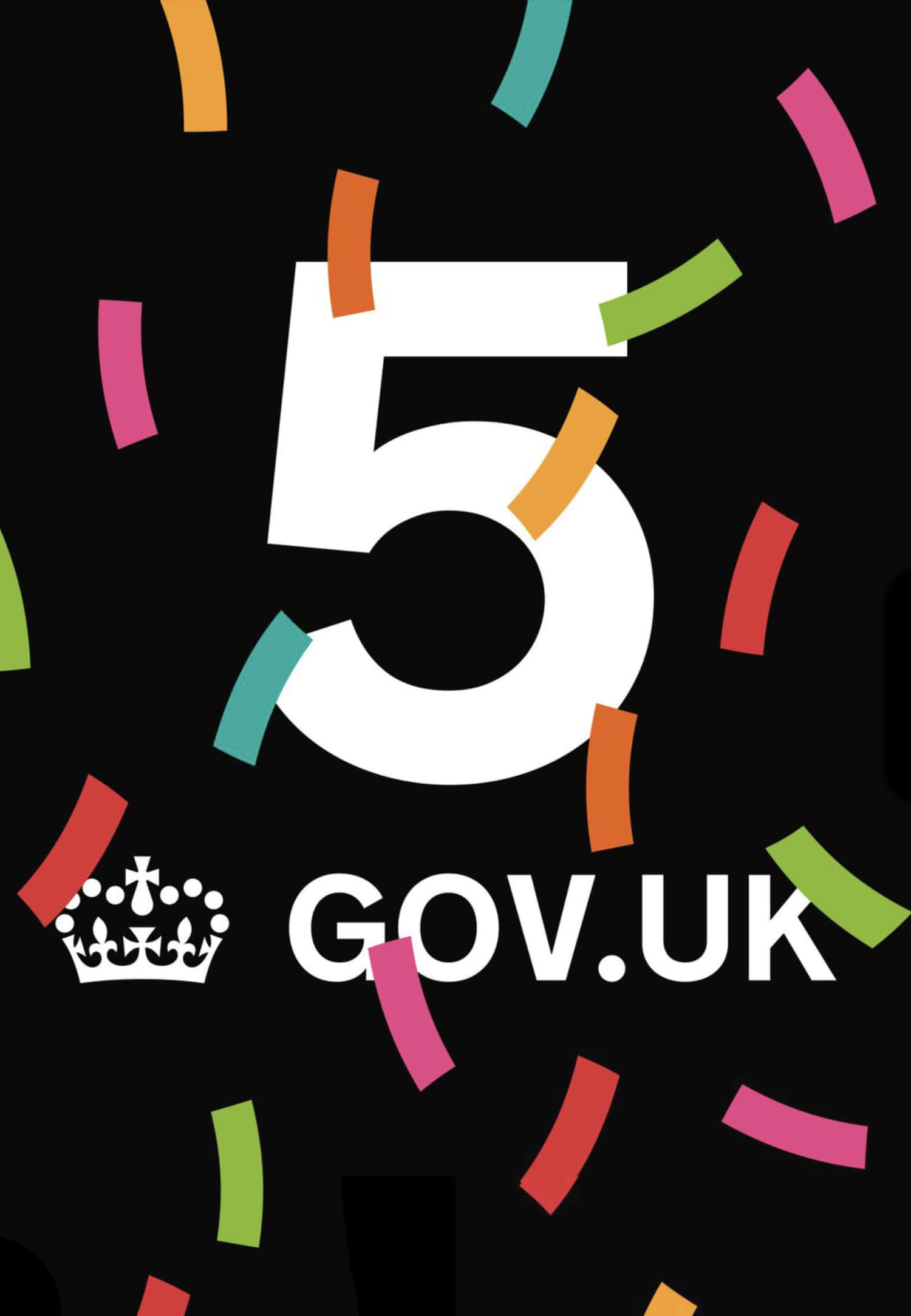 Graphic celebrating GOV.UK fifth birthday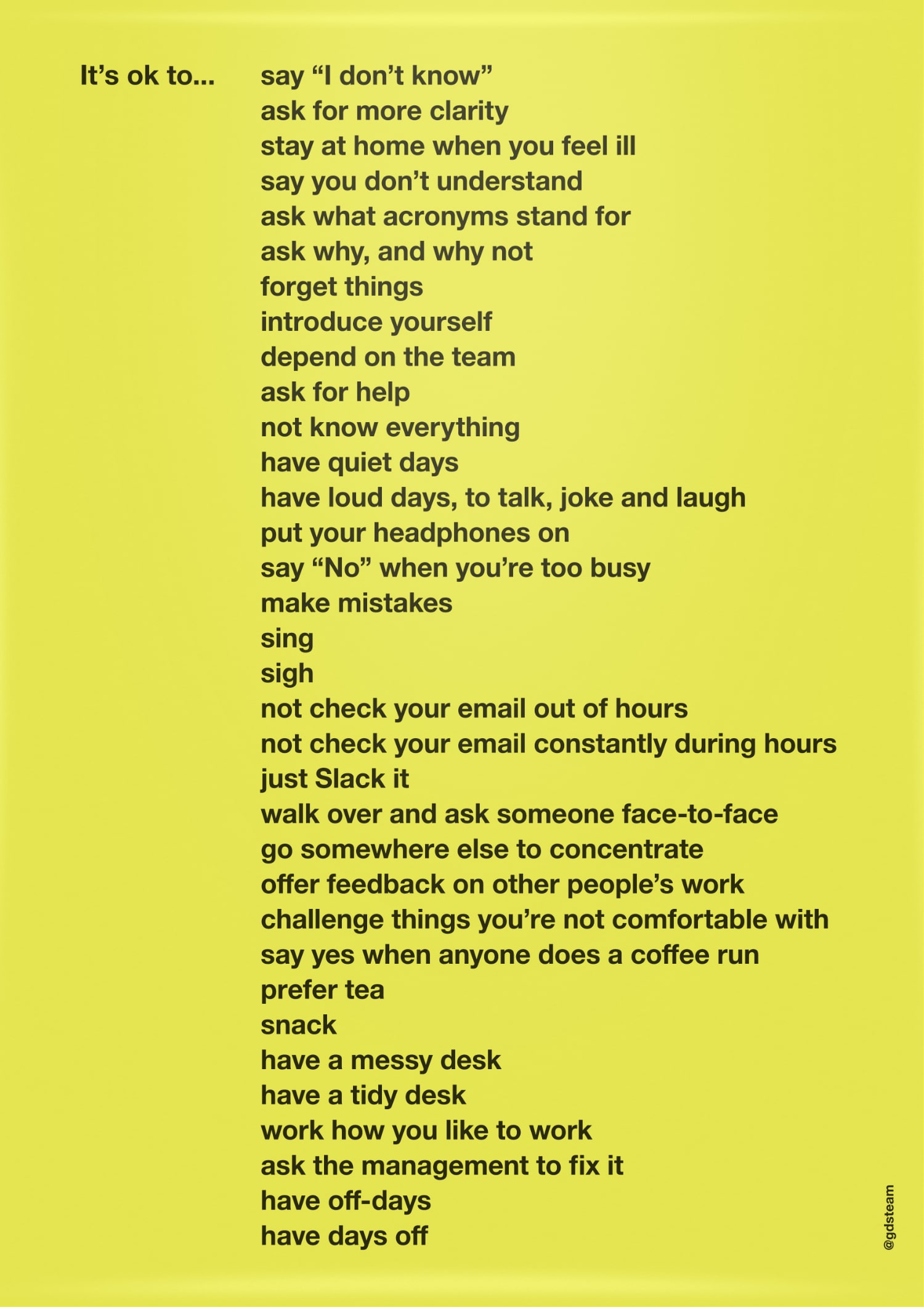 Office culture poster (designed by Sonia Turcotte)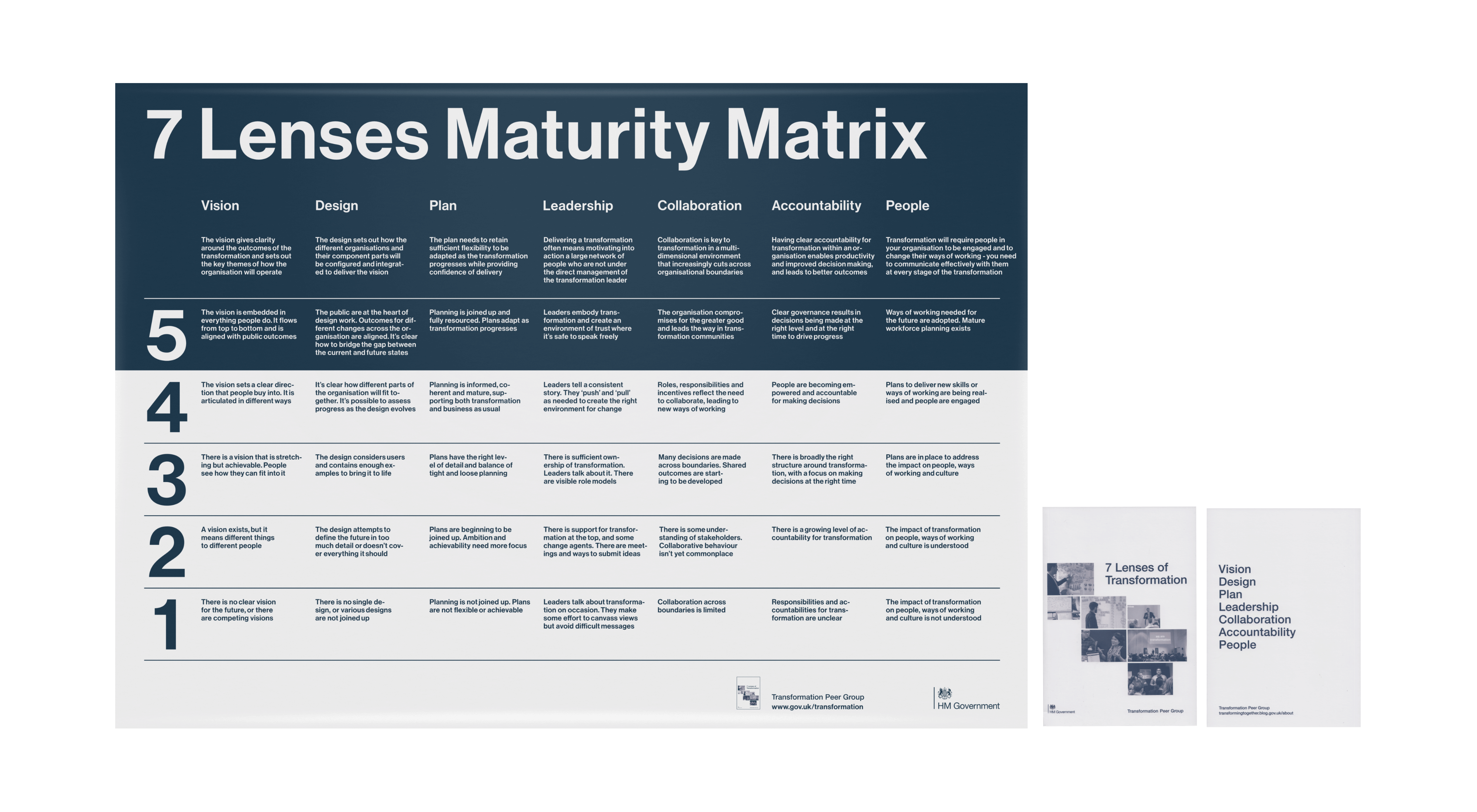 Training workshop materials and handbook (book designed with Mary Osinibi)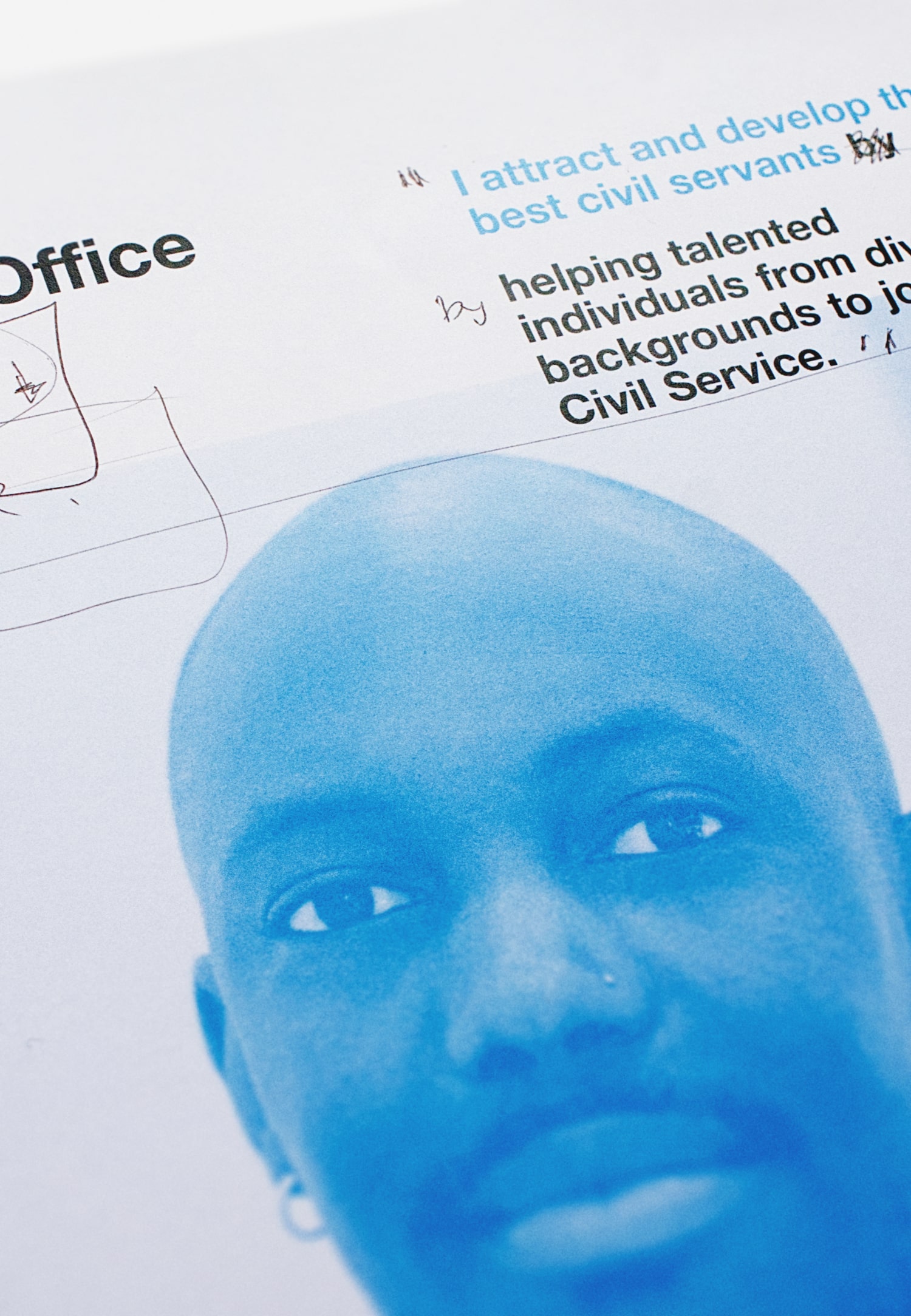 In progress graphics for a Cabinet Office HR campaign (with photography by Graham Higgins)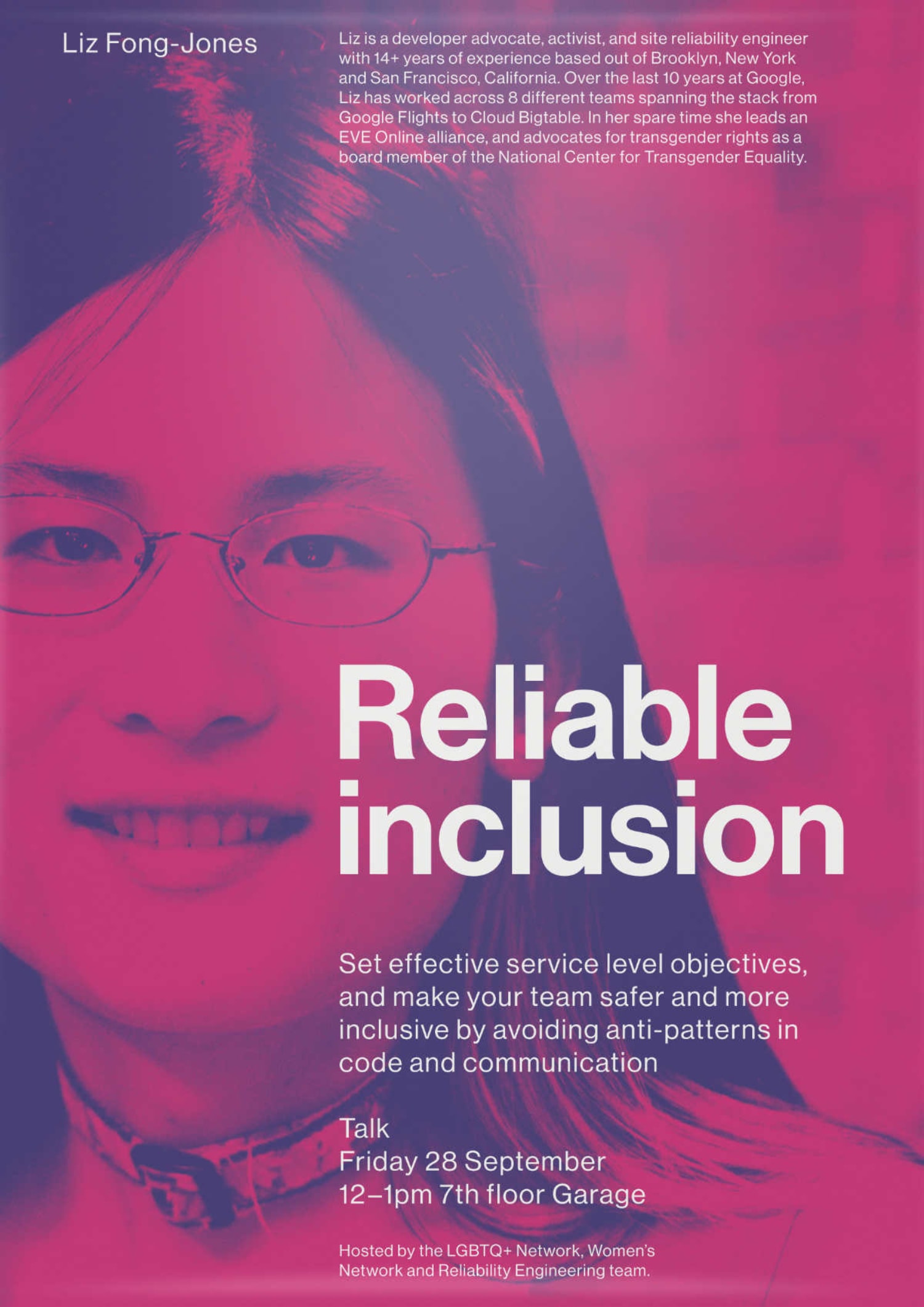 Like a lot of tech organisations, GDS has a strong culture of informal learning with talks, work groups etc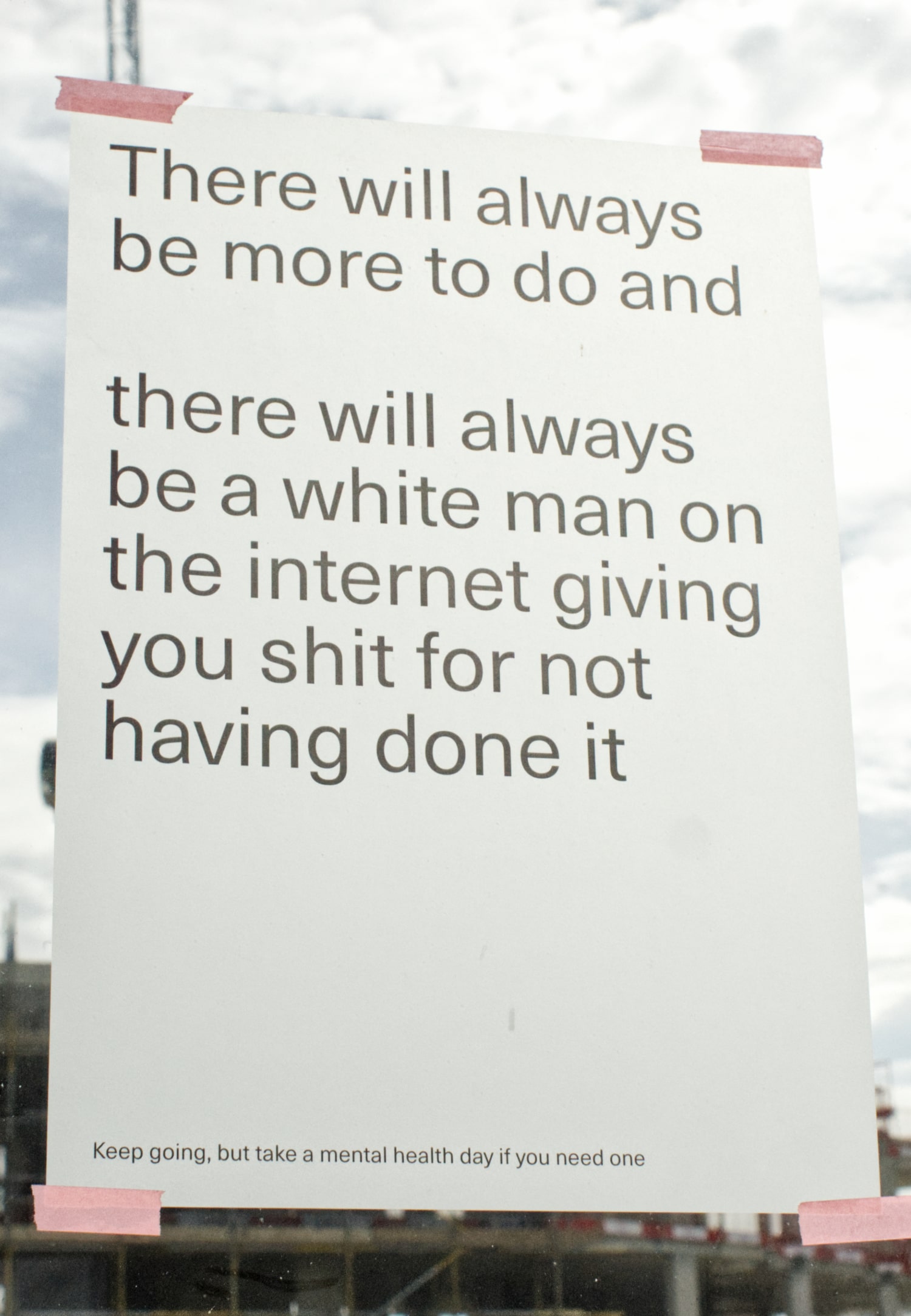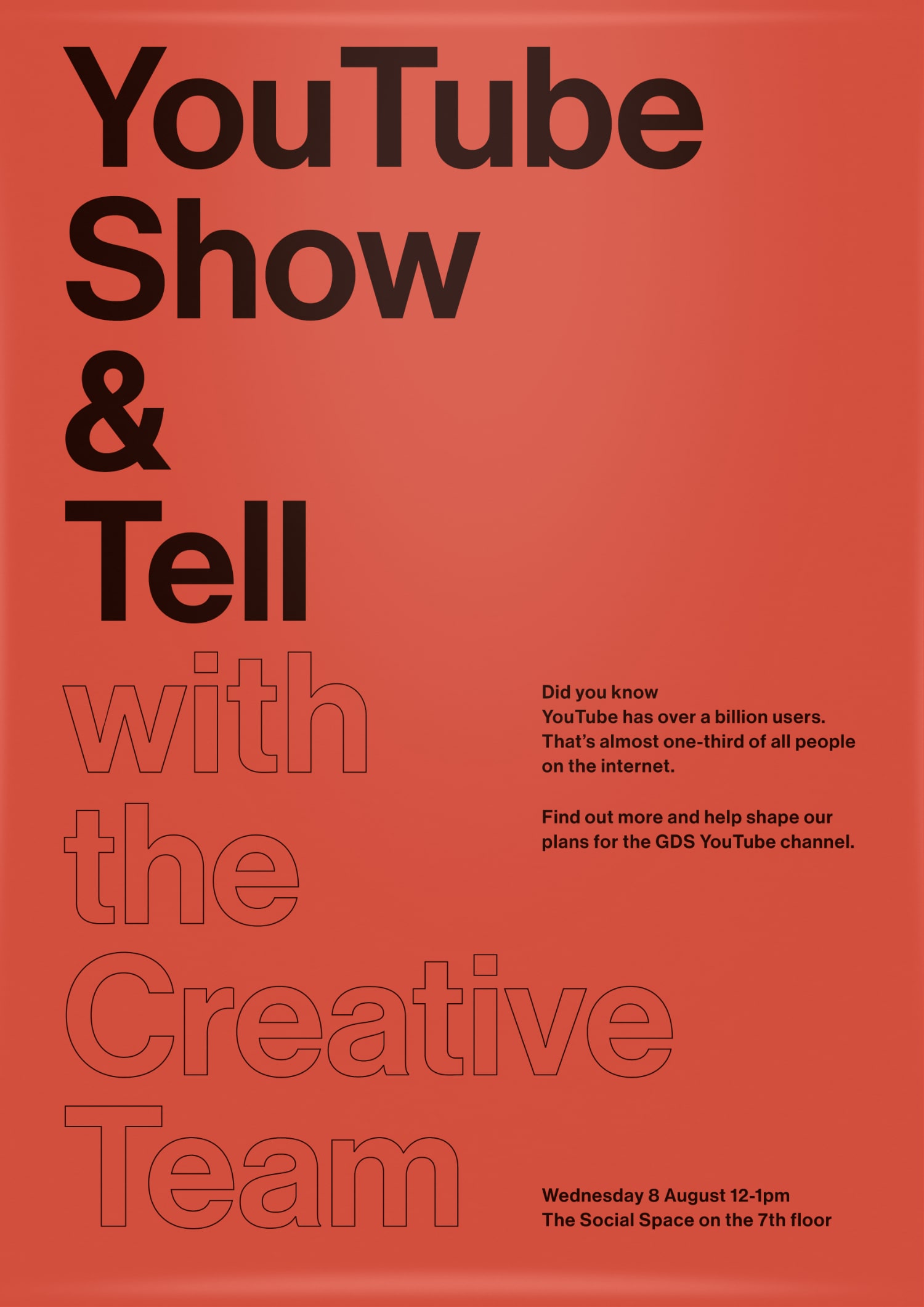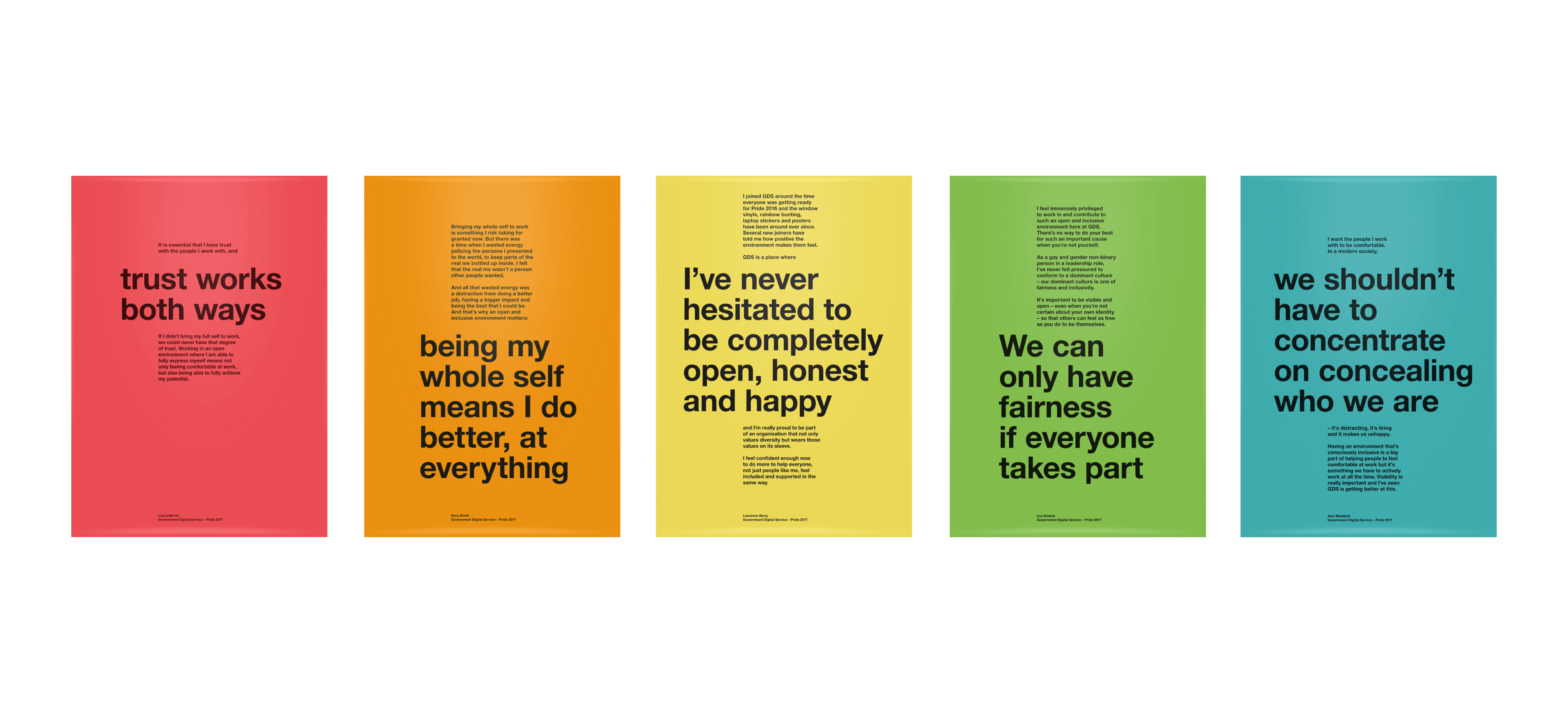 GDS brand and communications
Design direction for Government Digital Service
2015 — 2019
The Government Digital Service isn't just responsible for designing, building and maintaining GOV.UK. It is also responsible for numerous digital service platforms (like GOV.UK Notify, which has sent more than 1bn notifications), design patterns, digital career frameworks, training courses, building cross-government professions and much more.
We needed these often disparate activities to hang together visually, without upsetting the government's strict rules on logos and branding. And on very tight budgets. Both because GDS was funded by taxes during a time when the government was cutting critical funding (often from already underprivileged communities), and because of the risk of media attention about ostensibly frivolous spending. GDS also needed to "look good" on the internet, to keep its position as a mission-driven organisation where technologists, product people and designers could come and do good work — even if it meant taking a paycut.
I developed a design language based around combining the governments Single Identity Guidelines with whatever low-cost attention-grabbing paper stock we could feed through the office laser printers. I oversaw the design of social media materials, the online recruitment platform (even writing the custom theme directly when the supplier had staff retention issues), training materials, internal comms, etc. I also worked with Gensler on the interior design and plan for the new GDS offices, structuring the build around flexible modular workspaces for agile teams rather than grand statement spaces.
Sonia's "It's OK" poster took on a life of its own, even being exhibited in the 2017 Vianna Biennale. See also: GDS conferences and events, GOV.UK Design System and GOV.UK visual identity and brand
---
With Mia Allers, Laurence Berry, Ralph Hawkins, Stephen McCarthy, Mary Osinibi, Christopher Thomas, Michael Thomas and Sonia Turcotte.